The definitive guide to help you decide on how much to charge for a sponsored Instagram post – with examples, equations, formulas and calculations…
Social media marketing is a very accessible and affordable way to generate an income in 2022.
With over 3 billion users worldwide…
Daily Active Social Media Users
Source: Oberlo.co.uk
…and with the average user spending 2.5 hours per day using it…
Average Time Spent on Social Media Per Day
Source: Oberlo.co.uk
…social media presents a world of opportunity for reaching audiences, profitably.
It's free to post content (aside from advertising), plus it's easy to access from a laptop, mobile or tablet.
Its universal consumer appeal in all major economies draws in massive commercial interest for advertising.
Social Media Ad Spend Worldwide
(Source: Statista.com)
But advertisements aside, it's the social media influencers and their sway on the purchasing decisions that leads businesses of all sizes to sponsor content on popular influencer accounts.
Average Earnings of Social Media Influencers
The viable commercial interest has facilitated many regular, everyday social media account holders to earn a liveable wage from selling product & service placements. The elite…more so.
Source: thedrum.com
But how do Instagram earnings compare with influencers on other platforms?
Instagram currently hasn't got a revenue sharing program.
Instagrammers earn by sponsorship.
Source: Businessinsider.com
But the question remains:
How much should I charge for an Instagram post?
Instagram costs and pricing
Methods for putting a price on your Instagram posts
I'm going to take you through some common costing and pricing models for confidently arriving at the ideal Instagram post charge.
Different ways in which you might sell Instagram posts?
Firstly, let clear up the context.
There are different ways that you could sell an Instagram post
#1 An an influencer selling a post via their own channel
With a popular instagram channel, you might be solicited, or make outbound approaches to advertisers offering paid/sponsored posts.
If so, then you should ensure the relevant costs are absorbed into your overall fee for this opportunity.
#2 Post design and production
On the other hand, you might be hired as a go between to facilitate the publisher and the advertiser producing a post for launch.
#3 Account management
Finally, you might be hired to manage someone to manage their Instagram account and be unsure about who to charge for your services.
Whichever way it is for your situation, here are some professional methods for arriving at your price per post for Instagram:
#1 B2B project-based costing for Instagram posts
Bundle your Instagram posts into 'Stories' to magnify the overall value given and to widen your profit per post.
'Instagram Stories' helps users to capture everything in between and create a bigger, richer story than a series of individual photos can provide.
Top reasons why selling Instagram stories to your clients will deliver value above and beyond an individual post:
Raise urgency around time limited deals:
The temporary, 24-hour time frame is a good way to promote discounts and competitions. The timeframe creates a buzz around a deal and gets people to take decisive action quickly by visiting your website or throwing your brand a Direct Message.

You can urge people into interaction with your brand by getting a particular message across through a story or asking them a specific question.
Add more 'person' to the brand personality
Try showing some behind-the-scenes videos to give a taste of the people behind your products and their personalities. You could give people a sneak peak of your new offerings, post step-by-step guides or just an average day in your office.
Multiple posts without annoying the audience
Instagram Stories is great because it lets you post as many videos and photos to your story as you want – without affecting your main news feed.
Further reading: https://www.socialmediatoday.com/social-business/why-and-how-use-instagram-stories 
That said, research shows that posts reach more audience than stories: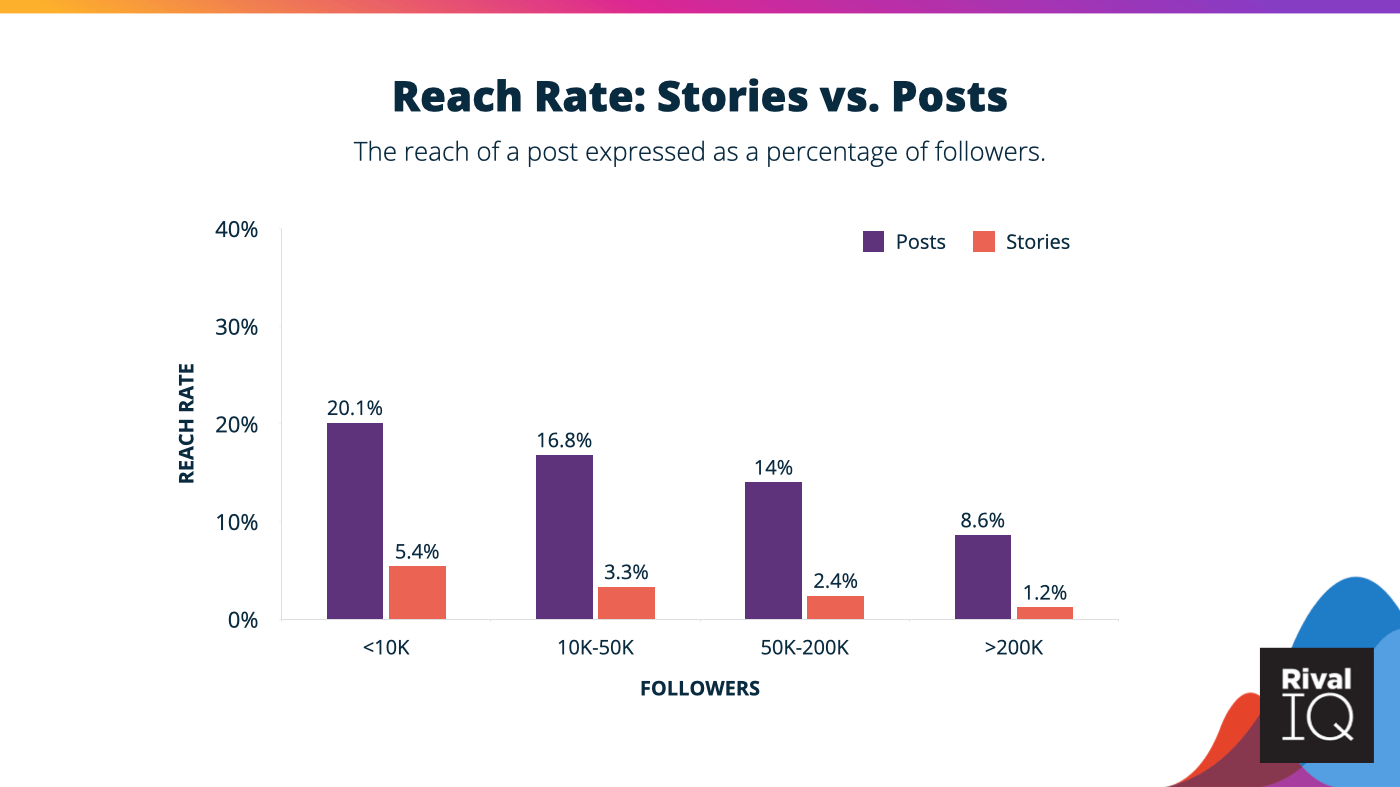 Source: RivalIQ.com
The lower the number of followers, the lesser the impact of the story.
This would make sense, especially as a story is only visible for 24hrs, so unless your audience is large enough their would be very little point.
How much should you charge for an IG story vs. post?
You should offer posts your larger clients – remembering that even at 100K, only 1-in-20 will actually see the story.
Your story should be a high value promotional piece to get best ROI.
I'd advise you charge more for a story, than you would charge for a post.
Why?
More content = more effort & time
More strategy involved
But use stories sparingly (special occasions only).
Perhaps even package stories within your projects as bonus add-ons to be used when they company has an effective use for the tactic.
#2 Average wage of an Instagram Account Manager
Here's a good rule of thumb for coming up with a credible Instagram post fee:
Compare the cost of your time taken vs. the equivalent cost of an employed Instagram account manager.
What is an Instagram Account Manager?
An Instagram manager is responsible for carrying out all the tasks necessary for your account growth. The person will monitor your account entirely and report to you daily on the status of your IG account.

Source: Socialpros.co
How much on average does a social media manager earn per year in the UK?
An early career Social Media Manager with 1-4 years of experience earns an average total compensation of £24,809 based on 376 salaries.

Source: Payscale.com
So, depending on experience you may use the following formula:
Employed average annual salary of a UK social media manager / number of working hours per year = equivalent (freelance) rate for producing a single Instagram post
We begin by identifying the average time taken to produce an Instagram post:
The average amount of time it will take you to create an Instagram post is 30 minutes to an hour and 25 minutes! (Note: an average of 57.6 minutes – roughly an hour.)

Source: Jennstrends.com
Then some handy metrics:
Working hours in a year = 1,725 hours
£21,000 salary, as per hour rate = £12.17 p/hour
£25,000 salary, as per hour rate = £14.49 p/hour
£32,000 salary, as per hour rate = £18.55 p/hour
£39,000 salary, as per hour rate = £22.61 p/hour
So, by this method you would charge:
£12.17 x 0.96 (multiplier to adjust the slightly sub-hour production time of the post according to the quote above) = £11.68 per Instagram post if you have less than a year's experience
£14.49 x 0.96 = £13.91 per Instagram post if you have between 1-4 years experience
£18.55 x 0.96 = £17.81 per Instagram post if you have between 5-9 years experience
£22.16 x 0.96 = £21.71 per Instagram post if you have between 10-19 years experience
(Whilst Instagram is yet to have existed for 19 years, comparative social media platforms have. We'll work on a general experience basis for the figures above.)
Should I charge performance related fees?
Your employed social media counterparts may receive bonuses and profit shares as part of their employment package.
Therefore you might consider tailoring your fee structure to leave some upside potential on your campaign performance.
#3 Reference group pricing for Instagram post fee
Another way to devise your pricing strategy for an Instagram post is to charge according to average rates published by peers.
Source: Later.com
Here are the Instagram influencer figures in British pounds:
5,000 to 10,000 followers charge on average £74 – £370 per post
10,000 to 25,000 followers charge on average £370 – £592 per post
25,000 to 50,000 followers charge on average £592 – £1,110 per post
50,000 to 100,000 followers charge on average £1,110 – £1,480 per post
100,000 to 250,000 followers charge on average £1,480 – £4,440 per post
250,000 to 1,000,000 followers charge on average £4,440 – £7,400 per post
1,000,000 followers or more charge on average over £7,400 per post
#4 Finding a cost-based price for an Instagram post
Another way to look at your pricing for producing an Instagram post is to ask yourself:
How much does it cost me?
Answer:
It would really depend on how much you estimate your time is worth.
One way of calculating this is to base the figure on the proportion of your living that Instagram posting should contribute toward…and dividing up an estimate.
For example, if you estimated that your total living expenses per month was £2,000 and time spent Instagram posting was 75% of your total available working time…
…your equivalent monthly price for all Instagram activity would be 75% of 2,000 = £1,500
If in an average month you worked 150 hours in total, therefore 75% or 112.5 hours would be dedicated to Instagramming.
Going by our average time to post on Instagram being 1 hour, this would amount to 112 Instagram posts delivered, on average, per month.
Your proportional price per post would be: £13.40 per Instagram post.
#5 Rule of thumb pricing for an Instagram post
This is totally subjective.
Whatever you think is a decent compensation for your efforts – you charge.
This could be subject to any reasoning.
£100 a post.
£200 a post.
Whatever you like the ring of.
#6 Aspirational pricing for an Instagram post
A little more data-driven.
(Just a pinch more mind you.)
You might look at an influencer you hope to reach in terms of audience size and set your sights on their prices from day one.
If your ambition was on the account prominence of say, Lionel Messi your price might be $1,169,000 (or £864,926) per post.
A word of warning: be prepared to justify your figure.
#7 Value-based pricing for an Instagram post
This way you charge a price that you think would be reasonable for your client to pay, given their expected ROI on the job.
Value-based pricing is catching on in most niches of service business.
It's opportunistic. And plays on the quality that the provider can deliver against the ROI that the client is likely to receive.
It usually works well with providers who have reputation for getting results.
Their reputation minimises risk and maximises gain – and if there is enough profit in the upside for the client, then it's pens to paper for getting started.
Niche services with narrow focus are possibly the easiest to demonstrate results.
For example, with a few case studies under your belt for delivering ROI in, say, SOHO (small office, home office) furniture specialists.
You are able to demonstrate your ability to increase sales on average by 80% for small to medium-sized manufacturers.
This is based on a 200 post campaign.
You are approached by a prospect who asks you for a price quote to run a 200 post campaign.
You qualify their annual sales revenue to be £1.200,000.
To deliver you price for the posts, you derive 80% of the annual sales revenue £960,000. This should be their gross revenue from the campaign by your experienced estimate.
You charge them 8% (£76,800) of this figure for your campaign. If their net income from sales will be 28%. You campaign would net them 20% overall.
The price per post works out as £384.00 per post. The same sort of price that an influencer with 50,000 – 100,000 followers might charge, on average.
#8 Loss leader pricing for an Instagram post
You might on occasion choose to offer your Instagram posts at a loss making price.
Why?
As a deal sweetener for a larger social media marketing deal, perhaps.
A way of bundling value within a deal structure that is pitched to win business now, in order to build ROI and profit over time.
For example, if you figure your list price to be £100 per post, you might offer posts at £30 per post inside a deal worth much more to you over time.