A list of useful resources for helping you start up a business in Birmingham from 2022 and beyond.
This round-up includes the kind of information that will be practically useful in writing and business plan or building a relevant knowledge base.
Birmingham Startup Facts, Stats and Resources
#1 Birmingham experienced a strong entrepreneurial bounce back in 2020
Despite (or perhaps, because of) the global economic downturn as a result of the pandemic, Birmingham saw record startup registrations throughout 2020:
New data shows that 18,394 new enterprises started life in the city throughout 2020, marking the highest volume of startups outside London.

Overall, Birmingham saw a 26.8% uplift in business births from 2019.

Source: thebusinessdesk.com
#2 Birmingham's business startup pedigree
From a small family grocer to the world's 2nd largest confectionery company, Cadbury's has quite an exceptional commercial history. Here are a few facts:
Founded by John Cadbury, opened a grocers shop in 93 Bull Street, Birmingham (1924)
John and his brother, Richard, sited their now, globally famous factory in Bournville, Birmingham
Some of the world's most iconic names in chocolate were and still are produced in Bournville
Cadbury became part of the Mondelēz International family in 2010
In 2012 a new global R&D centre opened in Bournville, Birmingham as part of a £200 million investment programme
The company has continued to invest in the region to take advantage of the wealth of talent and skills available, and now employs some 4,000 people

Source: Investwm.co.uk
#3 Get reliable and useful business stats from Birmingham
Everyone knows that the Council website is the place to get reliable economic data to help support your startup proposal. But the question is "where on the Council website?"
For stats like this on Economic activity of a particular constituency, like Edgbaston, for example – visit this page:
https://www.birmingham.gov.uk/downloads/download/591/constituency_economic_and_employment_profiles
#4 Businesses for Sale in Birmingham
On the day of publishing, the online businesses for sale marketplace website Businessforsale.com has registered 214 going concerns on it's books, advertised by brokers.
One example is of a small photography studio run by 3 full time staff members, based in The Custard Factory that generates the following figures:
Asking Price: £20,000
Turnover: £100,000 – £200,000
Net Profit: £50,000 – £100,000
The total number of businesses up for sale in Birmingham compares favourably against the UK's other big cities:
Liverpool – 87
Nottingham – 95
Sheffield – 89
Bristol – 106
Glasgow – 82
Leicester – 70
Edinburgh – 78
Leeds – 114
Cardiff – 46
Birmingham's 214 business for sale was beaten only by Manchester's 557 and London's 1097 for number across all cities.
For more businesses for sale in Birmingham, click here.
#5 Birmingham's highlights in graphics
Some topical statistics to have handy when building a business case for your Birmingham startup: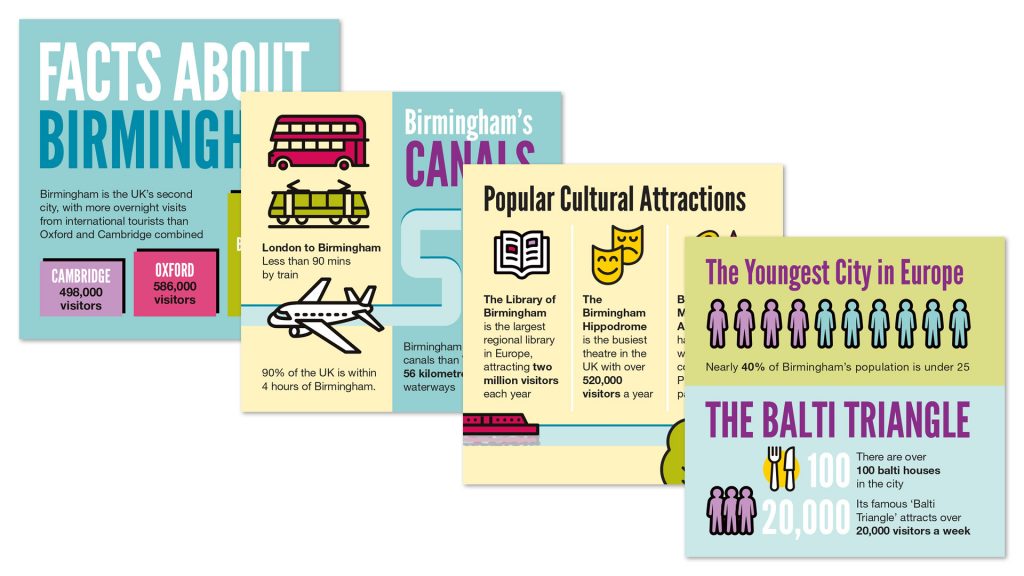 Source: Amandabadger.com
#6 Want to contact Birmingham City Council for help starting your business?
These are the official details:
Contact us
Level 3, Library of Birmingham
Centenary Square
Broad Street
Birmingham
B1 2ND

Telephone: 0121 303 6800