I learned this late.
10 years late.
That being said, this priceless gem has become the difference between endless pain vs. sweet joy when it comes to small business marketing.
(In fact, this gem makes 10x the difference to be exact.)
Want the giveaway?
It's PR outreach.
Here's what this article offers:
The inside track on PR outreach for small business
Backrub – it's all about who you know
ROI on search ranking vs. advertising
PR Outreach Stats (And What They Tell Us About Getting More Backrubs)
The PR Outreach Template That Works!
Let's begin…
The inside track on PR outreach for small business
BackRub – it's all about who you know
Ranid Lynn Beach / AP Images (Source: Businessinsider.com)
Believe it or not, BackRub, was Google Search Engine's prototype moniker when its founders were still college mates at Stanford.
Why?
It's a nickname based on the programming method it uses to serve up the most relevant search results in the industry: backlinks.
(aka incoming links from other websites.)
But the catch is, other sites will only link to you if they want to.
And why should they want to? This is the challenge ahead.
Back to backlinks.
Backlinks boost Google rankings
'Backlinks' in SEO are the links that a particular website has attracted from other websites.
It is interpreted by Google like a voting system.
(Source: Moz.com)
It's no secret that Google's search rankings are highly influenced by websites linking to a target site.
The higher the reputation of the websites linking in (and the more sites linking in), the better the search engine ranking potential of the target site.
More influential backlinks mean higher visibility for the target site online.
Like this…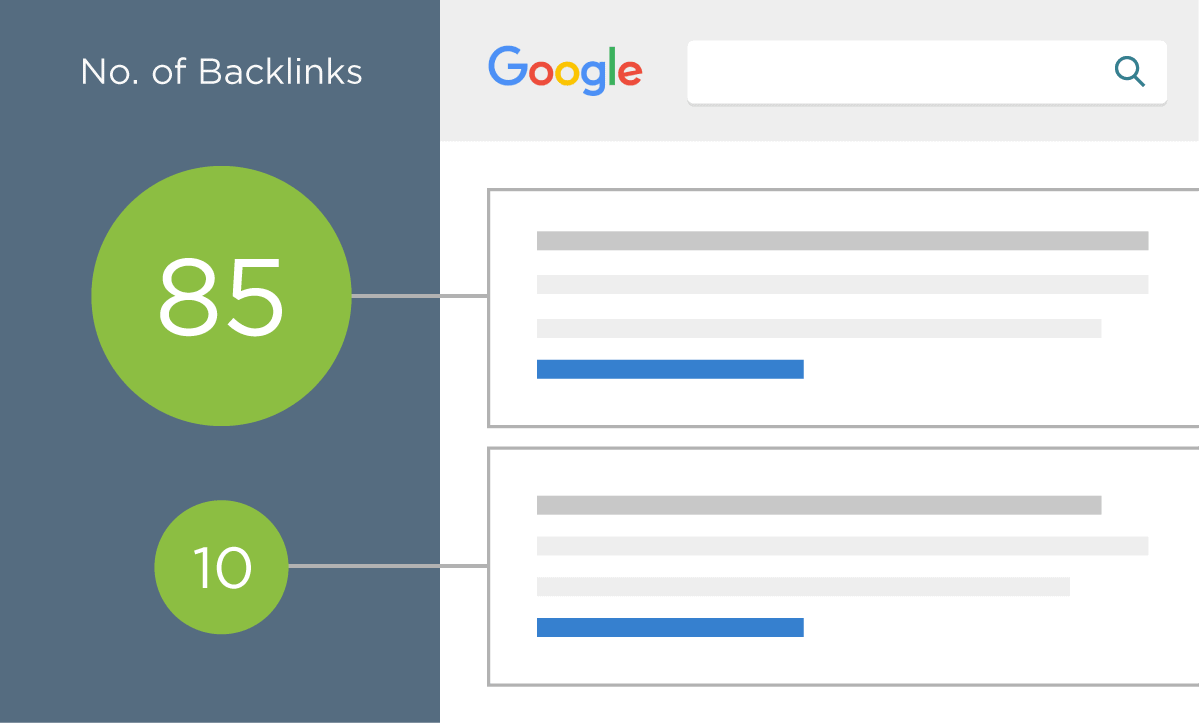 (Source: Backlinko.com)
And this directly leads to online impressions.
Whilst there might be a staggering 1.18 billion websites online (source: Siteefy), studies show that 55.24% of all sites don't have a single backlink (source: Ahrefs).
So, applying a broad brush stroke:
Your website has more than a 1 in 2 chance of outranking other sites by simply having even just a few backlinks.
But what does this mean against your bottom line profit?
ROI on search ranking vs. advertising
In the online commercial stakes, impressions are opportunities to sell products or services.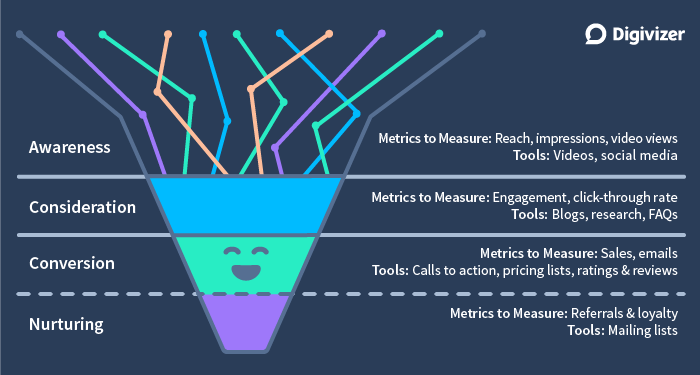 (Source: Digivizer)
It's a numbers game.
Impressions and sales
The more impressions (i.e. visitors viewing your website), the more chances you have of your business making sales revenue.
Each impression literally has a price if you know your conversion ratios well enough.
It's the job of publishers to know the worth of every impression to their advertisers. And charge them for it.
This forms the basis of advertisement costs in CPM – cost per thousand impressions. CPM (cost per thousand impressions) is the standard unit cost in advertising.
(Source: theonlineadvertisingguide.com)
Why is this relevant to our focus on PR outreach?
It comes down to return on investment (ROI).
(In a nutshell, ROI is the aim of every business. To take more out than they put in.)
It works the same in advertising and PR.
Illustration – ROI trade off PR vs. advertisement
Your business want to boost sales and you estimate you'd need to reach 1,000,000 new prospective customers to hit target.
Your publisher is charging a cost per thousand people of £6.50…
To reach your target audience of 100,000 new prospects your advertising bill would be £6,500.
But is there a better (more profitable) option?
You consider organic search engine optimisation.
With this method you aim to occupy relevant, high volume traffic search engine pages – at just the cost of writing the page.
Perhaps an expense of £60.00 for 3 hours work.
That's less than 1% the cost of your advertisement equivalent.
Is there a catch?
Time is one.
Organic ranking has a natural lead time that can't be rushed.
Indexing a page can take days or even weeks.
Plus, there's competitiveness.
Your website ranking for your chosen keyword depends largely on:
how well backlinked your website is
how optimised the written content is on the page you are wanting to rank
If you nail it with these 2, then your site has a HUGE chance of ranking prominently in the search results.
If it does rank and the page converts interest into sales – you've saved yourself 99% advertising cost.
A massive win for your small business marketing.
But just how do you get a prominent publisher in your niche to give you a backrub?
More on that later, but now for some stats!
PR Outreach Stats: What They Tell Us About Getting More Backrubs
Want to know the headline figure? Here it is:
(Source: Backlinko.com)
This statistic didn't surprise me at all.
It's one thing I learned the hard way during my time as a Global Business Development Executive for CEB's HR Leadership Academy.
The job was all about landing meetings between my sales director and his opposite number across the fence – who typically was Head of Training and Development.
Whilst the phone was my primary weapon, I quickly discovered the merits of skilled email outreach.
Why?
My budget holders / decision makers were heads of HR training for some of the world's biggest household names:
Coca Cola
Samsung
Unilever
Mercedes Benz
Suffice to say, my prospects had no time to waste.
Plus, their diaries were well protected by vigilant PAs who would only accept an email introduction as a first contact.
So, naturally, I learned to make my emails count.
Done well, I saw frequent and predictable successes.
But whilst learning the ropes, I found email outreach at best a complete gamble.
My experience taught me do's, don'ts and you'd be mad not to's.
Whilst I don't have the data to back up my tips on PR outreach, I found a study by Brian Dean of Backlinko (SEO training company) which does.
Brian's study analysed 12 million outreach emails for patterns of success.
And now for the stats…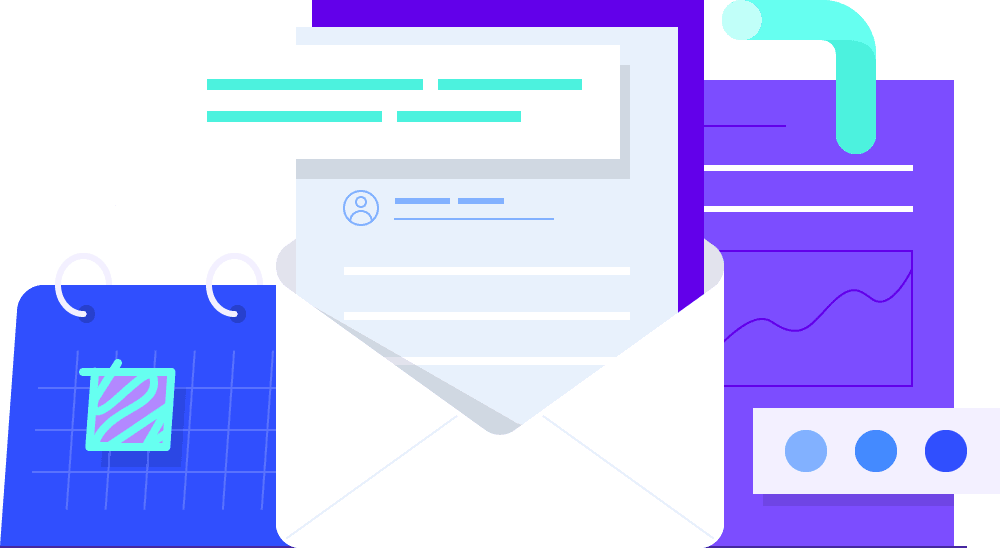 Here's what he found (& in my opinion, why he found it):
91.5% of outreach emails are ignored: they were cold emails with no lay up. Almost guaranteed to fail. You've got to warm up.
long subject lines outperformed short subject lines by 32.7%: long subject lines give the recipient more control over whether they think the content will be relevant or not.
sending just one additional follow-up can boost replies by 65.8%: building a relationship takes commitment. You'll be rewarded for showing that you are going to stick around.
sending emails to more than one contact improves response rates by 93%: it's all about chance if you get a proposal accepted. The more proposals you put out, the higher your chances of success get.
personalized subject lines got nearly 1/3rd more replies than those without personalization: outreach works best when you've done your homework. Impersonal emails are pointless and a poor quality nuisance.
personalized messages received 32.7% more replies than those that weren't personalized: once opened, you've got to hit the mark immediately. If you do you'll have them consider your pitch enclosed.
Wednesday had a slight edge over the other 6 days of the week: mid-week distraction? Just my thoughts.
Messages that contained links to social profile links in the sender's signature had an 9.8% higher average response rate: verifies your ID. No time wasters. Shows you to be credible.
more contacts combined with sequencing yield a 160% higher response rate: once you've got the formula set, get systematic to grind out results.
outreach emails about guest posting, roundups and link building all had an above-average response rate: this is the 'business end' of blogging. Getting networked and linked. Asset building. Money tomorrow and beyond for a little effort today.
(Source for statistics: Backlinko.com)
The PR Outreach Template That Works!
Emphasis on "…that works!"
Here's a quick snapshot of the results:
That's an average of about 4,300+ visitors per day having started from scratch only a year before.
Rub your eyes and blink – that's EXACTLY what I said.
Whilst I'd love to say those were the numbers to this blog – they're not.
But as encouragement to all of us on the regular rungs of the blogging ladder – this goal was achieved after 12 months.
Astounding results.
The story goes that the blog owner, a certain Adam Enfroy, entered into the blogging traffic hall of fame in only a fraction of the time his peers like Neil Patel and other big names.
So, how did he do it?
PR outreach extreme.
(I'll share the exact step by step template he used in just a moment.)
But first…
A quick summary of what happened
The full tilt graph above representing Adam's vertical climb to blogging superstardom was a result of setting himself a goal:
"…to publish as many guest posts as possible on high Domain Authority sites…"
Through this he proved that anyone with a new domain can get identical results through this particular method of PR outreach called guest blogging (guest posts).
How it happened for Adam
To begin with, Adam set himself 15 day deadline.
In this time frame alone he did all the work that fuelled the entire SEO project to this current day (500,000+ visits per month).
Here's what that 15 day mini-project looked like for Adam:
Started January 4th, 2019 + ended on January 18th, 2019
Followed a guest blogging strategy

(involved: "…finding the right contacts, cold email outreach, pitching topics, outlining and writing drafts, and finally, submitting guest posts to get them published.")

Contacted gatekeepers at 68 different websites asking if "I could contribute a guest post"
28 decision makers were interested
"Of these 28, I pitched topics to 18."
Of the 18 sites, Adam got 8 articles published, complete with high quality + relevant backlinks to his new blog
…and as we said before, all within 15 consecutive days.
(Source: Adamenfroy.com)
3 years on…
10 million+ web visitors later…
$1 million+ in the bank…
…those 15 days to seed his media empire were certainly worth the investment.
PR outreach works. FACT.
Want to give it a go?
Here's the step-by-step breakdown I told you about earlier:
Adam's PR outreach template for guest blogging success
Here he is…
(Source: Adamenfroy.com)
Adam's 6 part template:
What's your value proposition? – make it worth the effort for your counterpart. This is business after all. They have something you don't have – a popular online blog. But then again, they need consistent quality content to satisfy their audience. This is where you come in. Notice I said, "…quality content." Discover their content itch and scratch.
Make a wish-list of blogs – aim high. The domain authority of the chosen link donor should be 60+ to add sufficient boost to make a significant climb up the rankings. Also, go for high engagement blogs. One's with lots of comments and shares. You'll benefit from relevant referral traffic too.
Identify the decision maker – know who to pitch. Use LinkedIn and other specialist software to confirm the name of the person you want to reach.
Start mass emailing – make direct contact with said named blogger. You do this by sending a cold email to 'invite' an invitation to pitch. This is a guide to selecting the best template outreach script for you.
Pitch the perfect topic – so, you get a green light. And now it's time to begin crafting an A-class effort at drafting a pitch/draft. Stick to the editorial rules, make sure they've not published something similar and that it's an angle that their readership won't resist.
Land your article(s) – keep an eye out and follow up until you get the feedback you were looking for. "You made it – here's the link!…."
Give it a go…
Now, it's your turn.
Adam made it work for him from scratch with nothing but hard graft and strategy.
Whilst he's given you a head start on the latter part, the graft part is all yours.
Get going today – read through his process thoroughly, take a deep breath and do likewise.